Low Download Speeds over L2TP/PPTP connections
Unfortunately this router is useless for UFI L2TP/PPTP connections which are in Israel.
Maximum speed was obtained around >750kBytes/s, which is not depend on firmware used (Tomato, dd-wrt, original) or overclocking at 250MHz.
EDIT: My solution now is Atom based motherboard from Zotac with WiFi card as my router/server. Power consuption is around 20-30W.
SO, STAY AWAY FROM WRT54GL ROUTER for >6Mbit over L2TP/PPTP. You will download maximum at 750kByte/s
top command: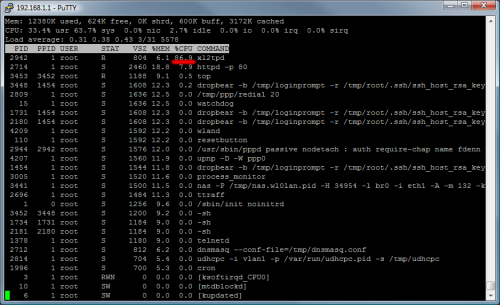 Firmwares
Tomato firmware
http://www.polarcloud.com/tomato
http://en.wikibooks.org/wiki/Tomato_(firmware)
DD-WRT firmware
http://www.dd-wrt.com/site/support/router-database
Note: Upgraded from Tomato 1.28 by resetting NVRAM and flashing dd-wrt mini version followed by voip version.
Patch for Israel HOT L2TP in DD-WRT
http://www.dd-wrt.com/phpBB2/viewtopic.php?p=460955
change
refuse pap = no
in /tmp/xl2tpd/xl2tpd.conf
However, changes are lost after reboot.
You can use this script:
http://hotfortech.wikispaces.com/DD-WRT+home+setup
Overclocking (SSH, Telnet, Terminal, Command line)
Stick to 225, 240, 250 MHz. There reports of bricks on other clocks.
nvram set clkfreq=250
nvram commit
reboot
Checking speed of CPU
grep MIPS /proc/cpuinfo